Music Teachers – Boronia and Carrum Downs
Rhys here, owner and guitar teacher of the Eastern Suburbs School of Music.
I believe we have the best teaching staff of any music school in Melbourne. I have selected teachers for our schools in Boronia and Carrum Downs that are highly skilled musicians and more importantly terrific instructors. Music is a complicated thing. It is equivalent to learning a new language. Our teachers are understanding and patient. I ask our teachers first and foremost that our students have the best half hour of their week with us at the Eastern Suburbs School of Music. They will inspire you to pick up that instrument, get practicing and become the player you want to be.
Due to the success of our school in the last 6 months we have also recently added 10 new teachers to the Eastern Suburbs School of Music staff. We welcome:
Genevieve Matthews – Violin
Bruno Jambrecina – Guitar/Ukulele – Carrum Downs.
Noel Tenny – Drums – Carrum Downs.
Hayden Blaby – Guitar/Ukulele – Boronia.
Sylvie Tang – Piano/Singing – Boronia
Elzna Mynhardt – Piano/Violin/Singing/Guitar/Flute – Carrum Downs.
Shane Evans – Guitar – Boronia.
Dalys Hill – Singing/Piano.
Van Marks – Drums – Carrum Downs.
These teachers are making wonderful contributions to our great music community already. Read more about our wonderful teachers below.
RHYS LETT – Guitar/Bass/Banjo/Ukulele – School Director
Rhys has been teaching at the Eastern Suburbs School of Music since 2002 and as of 2012 is now the owner/director of the school. He is available to teach guitar, bass, banjo and ukulele at Boronia and Carrum Downs.
specialises in contemporary guitar styles in particular hard rock, blues and jazz guitar.
is the VCE music performance expert with an unmatched record of getting students prepared for exams.
His students have participated in ANZCA contemporary guitar exams where his students have the amazing record of never achieved less than honors marks (85% and above), a record which still stands after the 2014 exam period.
As a performer Rhys does over 150 gigs per year, toured nationally and has played in some of Australia's most prestigious venues.
Here is Rhys performing with one of his students at a recent ESSM concert night:

LUKE SHORE – Drums – Boronia
Luke is an accomplished drummer who in 2012 completed his Bachelor of Music degree at VCA. The drum program at our Boronia location has grown substantially under his leadership. His vision has lead to ultimate experience in drum lessons.
His versatility has seen him perform gigs in hard rock, jazz, folk and Latin bands as well as being an in demand music theater drummer.
Amazing success with drum students as young as 4 and recently an 82 year old.
Luke's great sense of humour adds to his ability to create a supportive and patient learning environment.
Here is Luke with fellow Eastern Suburbs School of Music teachers Rhys Lett and Daniel Lijnders performing Stratus by Billy Cobham:
JASON FADOS – Guitar/Banjo/Bass – Band Workshop Manager – Boronia
Jason has been playing guitar for over 10 years and has experience playing guitar in many popular original and cover bands. Jason is available for lessons at our Boronia location.
In 2013 he completed an Bachelor in Music Performance (Jazz/Contemporary) from which he has earned many high distinctions for performances and recital programs.
As a teacher, Jason always works with his students to teach them music that inspires them to learn the guitar.
In 2014 Jason became the instructor and manager of the rock band workshop program in Boronia.
And yes he is LEFT HANDED! Awesome.
See Jason performing the Ry Cooder tune Feelin' Bad Blues here:
DANIEL LIJNDERS – Bass/Guitar/Ukulele – Boronia
Music has always been a major part of Daniel's life as a performer and now educator. He is an in demand bassist on the
graduated from Monash University with a Bachelor of Music/Bachelor of Education on the bass guitar.
employed as a classroom music teacher at Wheelers Hill Secondary College and as instrumental bass teacher at Nazareth College.
He has also played in many bands using all the different styles he has learnt from rock to country and everything in between.
Can teach you slapping, tapping, harmonics or other specific bass techniques, Daniel has the range and resources available to ensure that you get the most out of your lesson.
Here is Daniel performing at the Melbourne Guitar Show in 2015. He is endorsed by MarkBass amplifiers.
DAVID HARTNEY – Guitar/Ukulele/Piano/Bass/Singing – Boronia
David has been teaching guitar, ukulele, singing and piano for over 10 years. His students have included primary and secondary school students through to adults of all age groups, all wanting to learn and improve their music skills. David likes to work on all round skills and styles with his students which includes contemporary music, some classical and improvising techniques from blues to modern styles.
David has completed a Bachelor of Arts in Music and Literature.
He currently performs with rock band Robot Child, check them out at http://www.robotchildband.com/
Undertaking his Masters of Teaching during 2015.
Here is David performing with ESSM singing student Sara:
MARY LO – Piano/Violin/Cello – Boronia
Mary has been teaching at the Eastern Suburbs School of Music since 2012. An incredibly talented musician and educator, Mary is currently teaching piano, violin and cello at ESSM. Mary performed at our 2013 end of year performance night, check out the video below of her performance accompanied by school owner, Rhys Lett.
ERICA SYKES – Piano/Violin – Boronia
Erica joined the ESSM teaching staff in 2014. She is excellent with beginner students of all ages. Erica performed with ESSM owner Rhys Lett in the 2013 Fairhills High School production of Hairspray. Her piano performance was key to the success of the show with an extremely challenging score to perform crossing styles from jazz, classical, barrelhouse rock and roll and pop.
A very popular teacher in the state school system, ESSM is very lucky to have Erica join our teaching staff.
NICK HUGHES – Drums – Boronia
Nick has been a student of the Eastern Suburbs School of Music for 5 years and started as a teacher in 2014. He has performed at the ESSM concert nights, Knox Council's Stringybark Festival and Bayswater Cinema Under the Stars to over 1000 people.
See Nick performing here.
HEATHER CHAPMAN – Piano/Singing – Carrum Downs
Heather is available to take you for piano and singing lessons at our new Carrum Downs location. She is actively involved musically with her church and as a teacher is equally skilled on both instruments.
TROY ECKHARDT – Drums – Carrum Downs
ESSM is very proud to have added Troy Eckhardt to our drum teaching staff. He is a well respected drummer in the Melbourne music scene with over 20 years professional experience. As a teacher he has experience teaching people of all ages and skill levels.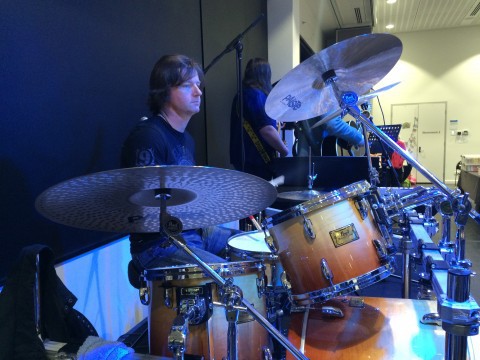 DALYS HILL – Singing/Piano – Boronia
Dalys brings a wide range of experience and qualifications to ESSM. She has a Bachelor of Contemporary music (majoring in Composition) AMEB 8th grade classical piano, AMEB 5th grade classical voice and AMEB 5th grade classical theory. She has also studied Jo Estill International contemporary voice method and has achieved her Certificate of Figure Proficiency. Dalys is experienced in running singing groups, session vocal work, and writing music for film.
Dalys has over 12 years experience in teaching piano and singing.