Play in a rock band featuring vocals, guitar, bass, drums and keyboard now!!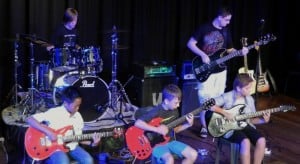 Wanna join a rock band? Eastern Suburbs School of Music can help!! As well as individual lessons we provide rock band coaching. This gives students the opportunity to use skills learned in their instrumental lessons and apply them to a rock band setting. Sessions are available Friday – Sunday where you will experience a rock band rehearsal setting. Sessions are instructed by owner Rhys Lett and assisted by experienced teachers in Jason Fados and Luke Shore.
Meet other musicians with similar skills
During the weekly hour workshop, students will learn everything needed to be in a successful performing band. This includes improvisation, ear training, arranging, musicianship, good practice habits, using sound re-enforcement equipment and general music industry knowledge.
All equipment provided!!! Just bring your guitar/bass/sticks
Advanced preparation for VCE subjects and life as a performing musician
Gain leadership skills vital in music and life
The program is open to students of any age and ability. This is your chance to take your playing to the next level.  An amazing opportunity is not to be missed.
Call Rhys on 0421 705 150 to secure a place in the rock band workshops today.