Back in Black – VCE Music Solo Performance
August 27, 2015
Back in Black is the title track of AC/DC's biggest selling album. With new singer Brian Johnson the band became the premier hard rock act on the planet. It is a popular choice to learn among guitar students of all ages and levels.
This song is from the single note category of the VCE Music Solo Performance guitar exam. You are required to play at least one song from this category in your performance exam.
For assistance with VCE Music contact the Eastern Suburbs School of Music via the contact form on the right of this page or by calling Rhys on 0421 705 150.
Back in Black – Equipment
Angus Young famously uses a Gibson SG guitar. He is a small person so he found that a Les Paul was too heavy for his frame. These guitars have humbuckers pickups. Any guitar with humbuckers will be appropriate using the bridge pickup.
The AC/DC guitar sound is a basic rock overdriven tone. Do not use too much distortion. The AC/DC sound is quite clean. The drive comes from the attitude and precision of how the chords are played.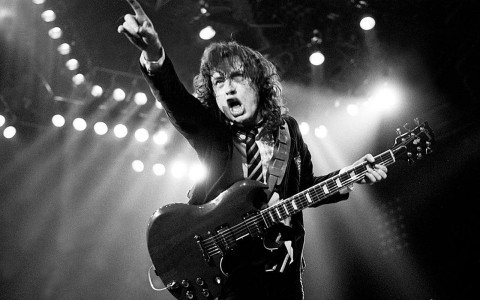 Back in Black – Structure
There are five parts to learn for Back in Black. Rhythm parts include the Verse, Chorus and Interlude sections. I recommend to learn those first. There are two solo sections to learn. Here is the structure of Back in Black:
Intro – Verse – the famous chords and riffs that are the hook of the song.
Chorus – it is very important to nail the accents of where the chords are placed. There is a lot of syncopated (off beat) placement of chords.
Verse – Chorus – repeat of what has already been played.
Solo 1 – builds into a classic Angus Young solo. This contains string bends and great use of vibrato.
Chorus – repeat of previous chord accents.
Interlude – fast blues based riff section.
Chorus – repeat of previous chorus chords.
Solo 2 – this is played until the song ends. It begins with the similar theme as solo 1.
Back in Black – Techniques
To help you perform Back in Black learn these guitar techniques and scales:
E Mixolydian mode.
E blues scale on 6th and 5th string.
string bending by half and whole steps.
vibrato.
Practice Back in Black by using the back track below.