The Wind Cries Mary – VCE Music Performance Solo Guitar
October 13, 2015
Jimi Hendrix changed the way rock guitar was played. His innovative approach to rhythm playing is highlighted in The Wind Cries Mary. This song comes from the album Are You Experienced? this album changed the way rock guitar was played forever. The Wind Cries Mary was one of the few ballads on this album. The playing style seen in this song was further explored on Hendrix's next album Axis: Bold As Love.
This article breaks down how to approach learning this landmark song. It is included in the list of songs students can select to play in their VCE Music Solo Performance guitar exam. The song list can be found following this link. The Wind Cries Mary is found in the Rhythm Works category. Students must perform one song from this category in this exam.
For assistance with VCE Music contact the Eastern Suburbs School of Music via the contact form on the right of this page or by calling Rhys on 0421 705 150.
The Wind Cries Mary – Equipment
Jimi used a Fender Stratocaster guitar. This type of guitar has single coil pickups. Any solid body electric guitar with single coils will be appropriate. I recommend using the neck pickup. This will provide a smoother tone for the clean sound heard in this song.
Keep your amp settings clean. You can use a volume boost pedal during the solo. This will give you greater dynamic possibilities and help you cut above the backing track.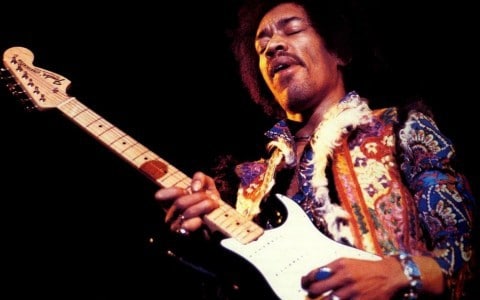 The Wind Cries Mary – Structure
Intro – Hendrix plays inversions of the chords to create this great intro.
Verse – an example of the Hendrix rhythm style. Jimi looks at the scale emerging from the chord and improvises. Each verse will be different.
Intro – Verse – listen for the variations in the verse. Hendrix plays the same chords in different places on the neck.
Solo – Hendrix outlines the chord changes in this solo.
Intro – Verse – repeat of earlier concepts. You can improvise in the Hendrix style if you understand his concept of rhythm guitar playing.
Outro – an extension of the intro. Some solo fills to learn in this section.
The Wind Cries Mary – Techniques
Techniques required to be learned to play The Wind Cries Mary are:
understanding chord inversions. Hendrix plays the same chords voiced in various ways.
double stops – as heard in the solo.
chord scales. Hendrix always sees the scale surrounding the chord he is playing at that time. He improves mixing chord tones with scale notes.
string bends.