Our lessons are for all ages, all abilities.
"Ask about our introductory offer of your first two lessons for $50."
Offer valid for music lessons at Boronia and Carrum Downs.
We have students as young as 2 years of age to adults that have always wanted to learn an instrument and finally have the time to live that lifelong dream. Lessons are available on guitar, piano, singing, drums, keyboard, banjo, ukulele, violin, cello or mandolin.
Our lessons focus on practical work, playing the instrument. Teachers are patient and supportive of all needs.
Start living your music dreams today with lessons at ESSM in Boronia and Carrum Downs. Book in by calling Rhys on 0421 705 150 or using the contact form to the right side of this page.
We are open Mon-Fri 4pm-9pm, Sat 10am-3pm.
Lessons are one on one, personalised to each student.
Weekly lessons half hour lessons at a cost of $33 per lesson paying by the term following your 2 lessons for $50 trial.
Group lessons are available on a limited basis (at the teacher's discretion) for $40 per lesson.
Casual one off bookings are taken where available for $40 per lesson.
Band workshop program runs at Boronia and Carrum Downs. Use your instrument skill to play with other musicians and share the journey of learning and playing music together. These sessions are one hour in length at a cost of $100 per term.
WHY CHOOSE EASTERN SUBURBS SCHOOL OF MUSIC
BEST QUALITY TEACHERS AND INSTRUCTIONAL METHODS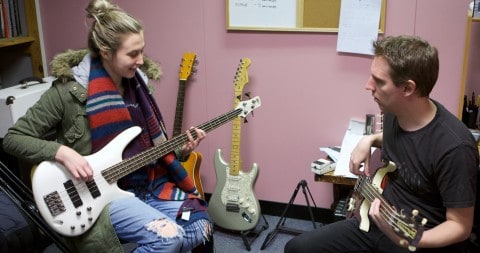 Our teachers are not just musicians trying to make some extra cash between gigs as seen at many music schools. Our teachers work in primary and secondary schools, in the classrooms and often holding higher specialist positions within their school programs. We have the best of the best on staff. Teachers that are not only great musicians but also great instructors ready to get the best out of you.
MORE INSTRUMENTS
We offer you the largest variety of instrument lessons in the eastern suburbs.  Also, get involved in our very popular rock band workshops.
VCE or EXAMS PREPARATION
We are the experts in VCE music and ANZCA/AMEB exam preparation. Our record is unmatched, with students once again obtaining scores of 85% and above on their ANZCA music exams in 2015. Our latest AMEB piano exam student also achieved an A+ score, well done Breanna!
TEACHING THE TEACHERS
We are a provider of teacher training and professional development sessions. ESSM can help you with creative ideas to implement at your own schools. This has helped many teachers go on to become more informed musicians and instructors in their own workplaces. They continue to refer back to ESSM for support.
To learn more lessons at Eastern Suburbs School of Music call Rhys on 0421 705 150 or via the contact form on the top right of the page.
Eastern Suburbs School of Music Boronia is supported by Keyboard Corner. All instruments taught at ESSM sold by the shop, please mention the music school for specials.
Eastern Suburbs School of Music Carrum Downs is supported by Guitars and Things. For all music instrument purchases visit Rob and Rick.