Vce Music Performance Solo Guitar 2019 Guide
February 8, 2019
NOTE: Updated for VCE Music Performance solo guitar subject for 2019.
Welcome to the Eastern Suburbs School of Music guide to the VCE Music Performance Solo Guitar performance exam for 2019. You can access the 2019 song list via this link.
In 2019, students in VCE Music Performance Solo guitar exam are required to play 5 songs selected from four topic categories. These categories and the focus of songs are:
Single Note – iconic guitar pieces and solos from acts such as Eric Clapton, Metallica, George Benson. Look through this website for summaries of the songs from this category like the analysis of "Cowboys From Hell".
Chordal – where the player needs to play chord and melody at same time, think Tommy Emmanuel style.
Rhythm – specific riff styles, arpeggios or rhythm comping featured. See our analysis of "One of These Nights" from this category.
Fingerstyle – using right hand fingers to pluck strings, much arpeggio work in these pieces.
The five songs must be performed within the 25 minute time allocated to the VCE Music Performance Solo guitar exam. Therefore, time is precious. Songs must be selected with great care. You must play one song from each category. Select a 5th song from either the single note, chordal or fingerstyle category.
Song Selection – VCE Music Performance Solo guitar exam
Make song choices that suit you as a guitarist. Certainly choose songs that you can master. Early in term 1 take time to understand your current skill level on the guitar. Be honest with yourself. Look to YouTube for versions of the songs and people performing covers. With your current playing skills will you successfully learn the song? From this research pick a list that is appropriate to your playing style and skill. If you can't decide, start by ruling out which tunes you will not play. Consequently, you will form a list that will give you the best chance at getting the marks you deserve.
Don't choose only your personal favourite songs. You LIVE these songs for the next year. As a result, it can destroy your love of an artist or song. Examiners do not care what your favourite band is. They see you for the exam, make their assessment and move onto the next student. However, they do care that you have a successful year developing as a musician and exhibit skills you have learned.
Look through the Eastern Suburbs School of Music website VCE category to see analysis of songs from the list. Therefore, understand what to learn and how to get the tone by reading our articles.
PREPARATION MISTAKES – VCE Music Performance
1. Not understanding the exam requirements – Know the requirements of the exam. This article has hopefully started your understanding of the VCE Music Performance Solo guitar exam. The task is five songs selected from a list performed within 25 minutes. All equipment needs are your responsibility. In other words, be in charge of your exam.
2. Choosing inappropriate songs – Some teachers get set in their ways. Therefore, their students are pushed to learn the songs the teacher is personally familiar with. Some will select material that is too difficult for the student to play. Most importantly, take control of your destiny and your exam. Song decisions should be made by you and supported by an understanding teacher.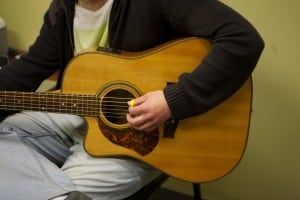 3. Not knowing structure of song – Understand the "map" the song. Have the structure written down. It will help you break down how much you have to learn. Identify variations in repeated sections. Consequently, it will focus your learning.
GOT A QUESTION? USE THE CHAT FEATURE ON THIS WEBSITE TO ASK A QUESTION ABOUT THE VCE MUSIC PERFORMANCE SOLO GUITAR SUBJECT OR CALL TO BOOK LESSONS
4. Wrong Guitar – Go into the VCE Music Performance Solo guitar exam with at least an electric guitar and an acoustic guitar. This helps with the criteria of showing different tone. Learn the sound differences between a Fender Stratocaster and a Gibson Les Paul. Understand the demands of playing a steel string acoustic compared to a nylon strung classical guitar. Hear the sound variations when using the pickups selection switch. As a result, you gain command of your instrument.
5. Know your equipment – You provide everything. Guitar, amplifier and playback system for backing tracks. You are responsible for all technical aspects during the VCE Music Performance Solo guitar exam. Take a spare electric guitar to avoid disasters such as string snaps or an input jack falling apart. Consequently, you are prepared for any technical issues you may have. Any issues must be dealt with on the spot. Grabbing the spare guitar will mean no time is wasted and hopefully keep you calm. Subsequently, rehearse with your complete VCE Music Performance Solo Guitar exam set up often.
In conclusion, Year 12 is a full on year. It will see you having less time than you would like to play guitar. The performance exam not until October or November. As a result, preparation can be lost in the mix of study for other subjects. Therefore, do not waste time. The year will go incredibly fast. Get your songs selected now. Listen to them as often as you can. Start to visualise nailing that exam at the end of the year. We are here to help you in 2019.
Best of luck with your study of the VCE Music Performance Solo Guitar subject in 2019. If you would like more information on the VCE Music Performance Solo guitar exam contact the school on 0421 705 150 or via the contact form at the top of the page.