Violin – Boronia and Carrum Downs
LESSONS ARE AVAILABLE MONDAY TO FRIDAY 4PM-9PM AND SATURDAY 10AM-3PM.
CALL RHYS ON 0421 705 150 TO BOOK A LESSON TODAY!
Take violin lessons in Boronia or Carrum Downs at the Eastern Suburbs School of Music. Violin is one of the most beautiful sounding instruments. Try lessons on this challenging but rewarding instrument. Students learn classical pieces, Irish tunes and contemporary pieces. String students are also encouraged to take part in our workshop bands. In 2019 we are developing our first string quartet groups.
The Eastern Suburbs School of Music is extremely lucky to have the talents of teachers Matthew Milligan, Alicia McKee, Mandy Buck and Erica Sykes on staff. These teachers are capable of preparing students for exams and performances.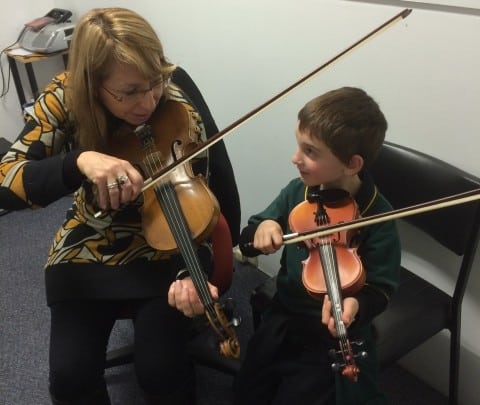 Students can start playing a younger age due to the smaller size of the instrument. Instruments are available in 1/2, 3/4 and full size. Adults, it is never to late to start learning! Our violin students range in age from early primary school to retirees. We have violins in school that you can use in lessons to trial the instrument. Begin your lessons with our 2 for $50 introduction. This offer is valid for new student bookings at Boronia and Carrum Downs.
Take our introductory offer of trying 2 lessons for $50. Enquire Today by calling 0421 705 150 or via the contact form below
There is one of our younger students Jasper performing a song he has learned in lessons with teacher Mary Lo.
 Need to buy an instrument? Boronia students visit Keyboard Corner for all piano and keyboard needs. Carrum Downs students visit Guitars and Things in nearby Frankston. We thank our loyal supporters of the Eastern Suburbs School of Music. Both stores are also able to provide sheet music.