Bass Lessons – Boronia and Carrum Downs
LESSONS ARE AVAILABLE MONDAY TO FRIDAY 4PM-9PM AND SATURDAY 10AM-3PM.
CALL RHYS ON 0421 705 150 TO BOOK A LESSON TODAY!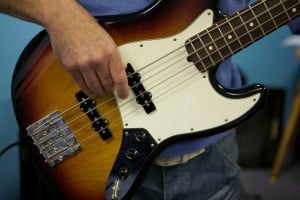 Take bass guitar lessons in Boronia and Carrum Downs at the Eastern Suburbs School of Music. This instrument is one of the easier string instruments to play. Bass is THE most important instrument in a band. It bridges together the drums with the guitar and keyboards. While it is apart of what is called the rhythm section it is equally melodic. An instantly rewarding instrument. Bass is an instrument that allows the player to be very creative through inventing your own patterns and lines.
Unlike other music schools, we have dedicated bass players as teachers. Not guitar teachers that can also play this instrument. Beginners will learn to play some basic grooves and fretboard patterns. Experienced players can learn advanced walking lines and slap and tap techniques. Lessons will give you the skills needed to be part of a band and play along with your favourite songs.
To understand the kind of skills we will teach you in lessons visit our article about how to play bass. This will give you examples of the kids of things you will learn in lessons at the Eastern Suburbs School of Music.
Bass players are always in high demand by groups to join our band workshop program. This is a great instrument to quickly get involved in a band to fulfill those rock star dreams.
Take our introductory offer for new students bookings of trying 2 lessons for $50. Offer is valid at our schools in Boronia and Carrum Downs. Enquire Today by calling 0421 705 150 or via the contact form below
Try our 2 lessons for $50 deal available to new student bookings. This will get you started on the path to find out what it takes to master the bass guitar.
Check out Tom Baker, one of star students performing solo at our 2013 Concert Performance night below. We helped Tom complete VCE Solo Performance subject. He is now studying a music degree with Monash University.
Famous Bass Guitarists
Sting – one of the greatest songwriters in history.
Paul McCartney – played in a little rock combo called the Beatles. Created some of most amazing bass lines of all time. Take a read of our article about Paul's best 10 lines.
Trevor Horn – who? The guy that wrote and sings "Video Killed the Radio Star" and producer of some of the greatest pop songs of all time.
Roger Waters – the man that wrote the majority of the Pink Floyd catalogue, in particular The Wall album.
You can also check out our favourite players in our 10 Bass Players you must know article.
Wanna play like Tom or the legends mentioned? We believe we have the best teachers in Melbourne ready to pass on their knowledge to you.

Call now to secure lessons with the best teachers in town on 0421 705 150. 
Need to buy an instrument? Boronia students visit Keyboard Corner for all piano and keyboard needs. Carrum Downs students visit Guitars and Things in nearby Frankston. We thank our loyal supporters of the Eastern Suburbs School of Music. Both stores are also able to provide sheet music.