Discovering Hair Metal
July 15, 2015
Yes the fashion may have been embarrassing. The music certainly was not. The skill level for musicians during this era in pop was constantly being challenged. Who could play faster and louder? Singer higher? Acts were reborn in this era as well like Aerosmith, Ozzy Osbourne, Whitesnake and an unmasked Kiss. The tag of being a hair metal band eventually became a death sentence in the 1990s (thanks Nirvana and Pearl Jam). The music lives on and is gaining popularity again due to the great songs and complex instrumental skills of the era.
The launch of music channel MTV was key in creating the wave of popularity. The Sunset Strip in LA was the heartland where bands would go to get discovered. Your hair also had to be as big a skyscraper.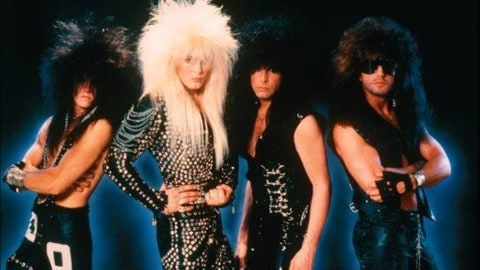 Here we present the Eastern Suburbs School of Music guide to Hair Metal. We give you recommendations of bands to listen to as well as the songs to learn to make you a better musician.
Van Halen – Discovering Hair Metal
Van Halen were the prototype for every 80s rock band. Party boy lead singer, note shredding guitarist, slamming drummer and oh yeah, a bass player. They were the biggest rock act of the 80s, even after changing lead singer from David Lee Roth to Sammy Hagar. They reformed with Roth and now also include Eddie Van Halen's son Wolfgang on bass.
Drummers learn Hot for Teacher.
Guitarists learn Mean Streets.
Keyboardists learn Jump.
Singers learn When It's Love.
Bassists learn Dirty Movies.
Motley Crue – Discovering Hair Metal
Coming to prominence at the start of the decade. Motley Crue are possibly more infamous for their offstage deeds than on. The band still contains two great players in guitarist Mick Mars and drummer Tommy Lee. Crue had an inconsistent music output, two must have albums for your collection are Shout At the Devil and Dr. Feelgood.
Guitarists learn Kickstart My Heart.
Drummers learn Too Fast for Love.
Keyboardists learn Home Sweet Home.
Quiet Riot – Discovering Hair Metal
Quiet Riot breaking through created the flood of bands that ruled the decade. They were the first act of this kind to achieve a number one album on the US charts. While they were overtaken by the up and coming bands as the decade progressed, Quiet Riot were at the frontline of rock music for the 80s.
Guitarists learn Metal Health.
Ratt – Discovering Hair Metal
Ratt was one of the earliest bands to ride the wave of the rise of pop-rock music in the mid 80s. Guitarist Warren DeMartini had the skills to hang with Eddie Van Halen and played some of the more melodically interesting solos of the period. They also had the great songs to match the overblown image of the times.
Guitarists learn Way Cool Jnr.
Drummers learn You're in Love.
Bon Jovi – Discovering Hair Metal
After two mildly successful albums Bon Jovi hooked up with songwriter Desmond Child to craft the biggest album of the era. "Slippery When Wet" contained mega hits like Living on a Prayer, You Give Love a Bad Name and Wanted Dead or Alive. They backed it up with next album New Jersey and were one of the few hair acts to maintain popularity through the 90s and beyond.
Guitarists learn Wanted Dead or Alive.
Keyboardists learn Let It Rock.
Singers learn Bed of Roses.
Drummers learn Bad Medicine.
Def Leppard – Discovering Hair Metal
Almost no one sold more albums in this era than Def Leppard. "Pyromaina" and "Hysteria" are back to back near perfect albums produced by AC/DC and Shania Twain ex Mutt Lange. The band faced many challenges in their history such as drummer Rick Allen losing an arm in a car accident. Allen plays with the band still performing on a drum kit with foot pedal triggers.
Guitarists learn Pour Some Sugar on Me.
Drummers learn Rock Rock (Til you Drop).
Singers learn Love Bites.
Dokken – Discovering Hair Metal
Every hair metal band needed a hot shot lightning fast guitarist. Dokken had George Lynch, who's style and technique can be put up there with the best of the decade in Eddie Van Halen and Randy Rhodes. Vocalist Don Dokken had one of the best voices of the era.
Singers learn Alone Again.
Guitarists learn Mr. Scary.
Drummers learn Tooth and Nail.
Poison – Discovering Hair Metal
Posion took the hair and makeup to the extreme. Their first three albums almost define the genre. With great songs such as "Look What the Cat Dragged In", "Nothing But a Good Time" and "Unskinny Bop" they were kings of the scene.
Guitarists learn Fallen Angel.
Drummers learn Unskinny Bop.
Warrant – Discovering Hair Metal
Warrant were one of the last big hair metal bands. It was unfortunate the wave of grunge halted the band as singer/songwriter Jani Lane was one of the best of the era.
Guitarists learn Uncle Tom's Cabin.
Drummers learn Big Talk.
Singers learn I Saw Red.
Winger – Discovering Hair Metal
Winger caught the tail end of the hair metal wave and bore the brunt of the backlash against the music. Leader Kip Winger first found fame playing in the reborn Alice Cooper band. All musicians in the band were stellar instrumentalists. Guitarist Kip Winger possessed an astounding four finger tapping technique and lightning fast fingers. Drummer Rod Morgenstein had played formerly in jazz fusion band Dixie Dregs. They continue to release new music today, somewhat heavier than their hair metal prime.
Guitarists learn Seventeen.
Keyboardist learn Rainbow in the Rose.
Singers learn Miles Away.
Twisted Sister – Discovering Hair Metal
A band that finally gained worldwide acclaim in the 80s hair metal craze. During the 70s Twisted Sister were a touring bar band playing venues that established rock acts would play. They gained popularity through their album "Stay Hungry". The two hit singles from the album contained classic MTV videos.
Drummers learn We're Not Gonna Take It.
Guitarists learn I Wanna Rock.