How to play like Ace Frehley
June 14, 2016
Original KISS guitarists Ace Frehley inspired countless rock and metal guitarists. He was a member of KISS from 1973-82. The band then reformed in its original line up with Frehley returning to the band from 1996-2000. He has released seven solo albums as well as his work with KISS.
Learning the guitar solos Ace recorded during his original stint in the band KISS gave me the textbook of lead guitar playing. He creates very melodic (easy to sing in your head and remember) solos using basic lead guitar techniques. You can learn Ace's solos over at our YouTube channel. See what we consider his ten best solos in this article.
Ace Frehley – Equipment
Ace uses equipment considered the staple tools of any classic rock sound. He was heavily influenced by Eric Clapton's playing while he was in the band Cream. Jimi Hendrix and Pete Townshend from The Who are also influences Ace often mentions. The equipment used by these players lead to the guitars and amplifiers selected to use by Ace. Unlike many guitarists, Ace has used the same guitar and amplifier combination for the length of his professional career.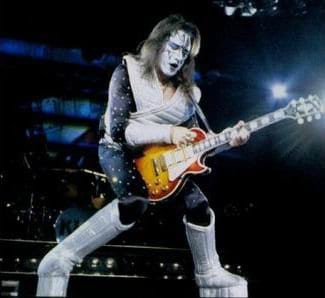 Ace Frehley plays Gibson Les Paul guitars. This guitar has been associated with many iconic rock acts. Ace used DiMarzio Super Distortion pickups in his Les Pauls. While his guitars often had a three hum bucker set up (as pictured above) it was often just for looks. Only the bridge pickup was the only working pickup on the guitar.
Ace has used Marshal amplifiers throughout his career. During the 70s he was known to use Marshall Super Lead heads. The Marshall-Les Paul combination is the sound of many classic rock guitarists.
Gibson guitars have issued Ace Frehley custom Les Paul models. The Budokan model has three hum bucking pickups. It is replica of guitar Ace used during the KISS tour of Japan during 1977.
Ace Frehley – Chords
KISS use power chords mostly in their songs. To understand how to play power chords visit our article by following this link. KISS are very clever with their guitar orchestration. It is rare that Ace and KISS rhythm guitarist Paul Stanley will play the exact same rhythm part. For example, they will play the same chord in different octaves. While Ace is playing lower on the neck, Paul might be playing the same chord in a higher position. Ace will often pick sustained lead type parts while Paul plays power chords. You will hear this in songs like "Love Gun" and "100,000 Years".
Hear this in a great live version of Love Gun performed in 1977 below.
Ace Frehley – Scales
Learn the minor pentatonic scale. Ace crafts most of his solos using this scale. You can find our instructional video for this scale below.
Occasionally Ace will also make use of the major pentatonic. You can hear this switch from minor to major pentatonic in the solo from the song "Deuce".
Ace Frehley – Techniques
Ace is a master of string bends and vibrato. He is not a fast player. To compensate for this he uses variation and repetition to craft the melody of the solo. Repeating string bends with slight variation in rhythm or adding vibrato is one of his lead guitar tricks.
See how to do accurate string bending technique by watching the video below.
Watch this space for further additions and updates to this article on rock guitar master Ace Frehley. We have videos breaking down further techniques Ace Frehley uses as well as tutorials for specific solos. If you would like to request a YouTube lesson on one of his solos leave us a message via the contact form below: