Favourite Music Moments from The Late Show with David Letterman
May 22, 2015
Tonight I watched the final Late Show with David Letterman. While watching the farewell show a flood of memories came back. Sitting up late doing school assignments, getting home from gigs and unwinding. As well as the great monologues, comedy bits and celebrity interviews, Dave always had a bigger variety of musical acts than any other show of its kind.
Dave would have the biggest rock bands in the world, quirky indie talent, Broadway show performers, jazz and blues royalty and rappers. Not to mention the house band that would contain some of the hottest players on the planet. Two of which even played on my guitar hero Ace Frehley's 1978 solo album, bassist Will Lee and drummer Anton Fig.  Fig also appeared as the session drummer on two KISS albums.
Here are some of my standout music performances I saw over the 20 years of watching and loving the Late Show with David Letterman. Most of these bands I saw for the first time on the Letterman show. This was pre-YouTube days. Many will never make it out to Australia to tour, some I have been lucky enough to see live and even meet in person to tell them I discovered you on David Letterman.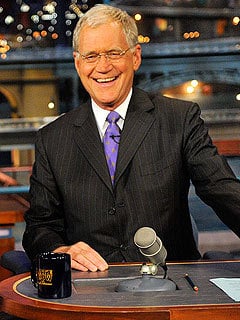 Phish – Heavy Things – 2000 – Late Show with David Letterman
Phish are one of the biggest concert drawing acts in America. I knew of the band through reading about guitarist/band leader Trey Anastasio in guitar magazines but had never heard Phish until catching their performance of Heavy Things on Letterman in 2000. This song came from their most accessible studio album Farmhouse. I had the cd sent to me by a friend in the US.
I was lucky enough to see Trey Anastasio live at the Roseland Ballroom  in New York 2005. At the time Phish had broken up. As a special guest in the encores Phish keys player Page McConnell joined Trey performing a set of Phish tunes. This is probably the closest I will ever come to seeing Phish live.
Phantom Planet – California – 2002 – Late Show with David Letterman
Phantom Planet will unfortunately will only ever be known for this song being the theme music of the television show The OC. This song comes from one of the best power pop albums of the last 20 years, The Guest. This great performance on Letterman made me race to JB Hi-Fi as early as possible the next morning on the chance they might have the CD. Not only did they have copies but it also came to a ticket to a promo show they were performing in Melbourne that week. So there I am seeing the band live in a local Melbourne club soon after discovering them via David Letterman and drinking with them after the show. They made great music until their break up in 2008. This promo show was their only one ever in Australia.
Actor Jason Schwartzman was the drummer at the time of this performance. Model/Phantom Planet frontman Alex Grenwald also was the vocalist for one of current hotshot Mark Ronson's first hits. Bassist Sam Farrar is also a quasi-Aussie with his dad being John Farrar, one of Australia's most successful songwriters. Sam is the current touring bassist for Maroon 5.
Thank you David Letterman.
Warren Zevon – Roland the Headless Thompson Gunner – 2002 – Late Show with David Letterman
My dad had the Warren Zevon album Excitable Boy on vinyl. Odd favourite for a 4 year old. This was my fave song on the album. Zevon was the stand in band leader for Paul Shaffer when he was unavailable. This performance was on a show entirely devoted to Zevon who had announced he had terminal cancer. He passed a few months later.
Listen to how great the Letterman band are backing Zevon on this powerhouse performance.
KISS – Deuce – 2012 – Late Show with David Letterman
In recent years music guests of the show would perform full concerts on the set of the Late Show following their show appearance. These concerts would be streamed on the Late Show website. This would be the first full concert I have watched streamed live over the web. It has to be one of the best performances by the band in the last 10 years. Leaders Paul Stanley and Gene Simmons were primarily influenced by the Beatles performance in the same theatre almost 40 years prior.
The band rip through a great version of early classic Deuce.
Paul McCartney – Get Back – 2009 – Late Show with David Letterman
Returning to the place where Beatlemania was launched. Before David Letterman came Ed Sullivan. The theatre where the Late Show is filmed was the scene for the famous Beatles 1964 first performance on American television on the Ed Sullivan show.
Paul performed a set on the marquee of the Ed Sullivan theatre doing a half hour of hits. Just an everyday thing in New York.
Alice Cooper – No More Mr. Nice Guy – 1999 – Late Show with David Letterman
Every now and then you hear a song on the radio or see a live TV performance that reminds you how great an act is. This Alice performance had me reaching for the greatest hits CD for the car the next day. Also
Foo Fighters – Everlong – 2000 – Late Show with David Letterman
In 2000 David Letterman underwent life saving quintuple bypass surgery after a routine medical checkup. In his return show Foo Fighters cancelled shows mid tour to come and perform Dave's favourite song. They returned to the show many times since to perform the tune. It was also the soundtrack to the final moments ever of the show.
You won't find a better live version with contribution from Late Show band leader Paul Shaffer.
Rage Against the Machine – Guerilla Radio – 1999 – Late Show with David Letterman
Oh so that is how Tom Morello does it. Street level performance in the pouring rain. Made it even more intense.
I Gotta Feelin' – Black Eyed Peas – 2009 – Late Show with David Letterman
Sometimes you hear a song for the first time and know it is going to be a huge smash hit. Seeing this performance was one of those moments. I have performed this song hundreds of times at gigs since.
Steve Martin, Earl Scruggs, Albert Lee, Vince Gill, Jerry Douglas, Marty Stuart – Foggy Mountain Breakdown – Late Show with David Letterman
This all star bluegrass jam is lead by legend Earl Scruggs. You would see these all star country moments occasionally on Letterman. This is one of the most amazing live performances ever seen on television.
The night I learned Steve Martin was also a master musician.
#ThanksDave