January 2 – Today in Music
January 3, 2021
After the celebrations and excitement of a new year, the music world gets back to work. Here is what happened on January 2.
Melody Maker First Published – January 2
Released for the first time on this date in 1926. The weekly UK music magazine featured dance bands of the time and an article on how to read music. It maintained coverage of jazz up until the emergence of rock and roll. It aimed to be a more upmarket and intellectual magazine to the populist NME. Importantly, the musicians wanted classifieds found members for bands such as Yes, Genesis, ELO and Duran Duran. The magazine closed at the end of 2000, merging with competitor NME.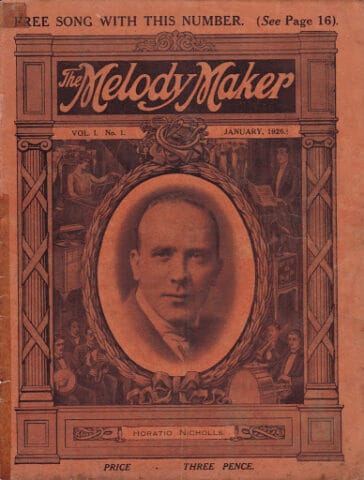 Beatles begin filming Get Back sessions – January 2
The Beatles arrive at Twickenham film studios to begin the Get Back project. The plan was to capture the band writing and rehearsing new songs returning to their simpler rock and roll roots. What the film and sessions ended up documenting was the breaking up of the band. George Harrison at one stage quit. John Lennon was bombed on heroin. Paul McCartney was trying to pilot a project that lacked purpose. Sessions improved when the band moved to their newly built Apple Studios. Songs such as Let It Be, The Long and Winding Road and Don't Let Me Down were written in this period. The project was finished with the Beatles performing on the rooftop of their Apple building. This would be the last time The Beatles would perform live for the public.
The resulting album came out over a year later, months following the break up of the band. The 56 hours of film footage is now being used to create a new documentary on the sessions. This will be released in August 2021. View a preview of the new film below.
January 2 birthdays
Graeme 'Shirley' Strahan, lead singer of Australian band Skyhooks. Shirl changed the the perception of the frontman of an Australian rock band. Skyhooks were tailor made for an emerging televison music program called Countdown. Exciting visuals, catchy songs referencing local topics and the mop hair Shirl with a voice of unlimited note range.
Chris Cheney, guitar superstar of The Living End. Forming in the early 90s with school friend Scott Owen, The Living End have become Aussie rock icons. Cheney is one of this country's greatest guitar players. His playing style shows his love of Brian Setzer combined with the Aussie pub rock influence of players such as Ian Moss and Jim Moginie and Martin Rotes of Midnight Oil.
Here is one of the early televison performances of the band highlight their incredible skills. Happy birthday Chris.