January 3 – Today in Music
January 3, 2021
Think not much happens after the big New Years celebrations. Think again. January 3 is a big day in rock history and the birth of several legends.
First Woman in the Rock and Roll Hall of Fame
Aretha Franklin becomes the first woman inducted into the Rock and Roll Hall of Fame in 1987. Possessing an incredible voice, Franklin had hits in the late 60s with "Respect", "A Natural Woman" and "Chain of Fools". As well as paving the way for women in the music industry, Franklin was an active civil rights campaigner. Showing her vocal versatility, she filled in for opera singer Pavarotti his last minute cancellation at the 40th Grammy Awards in 1998. Her stunning rendition of Nessun Dorma remains one of the most memorable music events I have witnessed.
Her memorable performance in The Blues Brothers movie is featured below.
KISS auditions Ace Frehley
Walking in wearing different coloured sneakers on each foot, Ace Frehley appeared to be an unlikely candidate. Band members Paul Stanley and Gene Simmons had thought a bum wandered in. Ace interrupted the audition taking place. When he did get his turn, all four acknowledged the magic that happened. KISS would record their debut album later that year. By 1977 they were the biggest band in America.
See the ad that Ace answered below.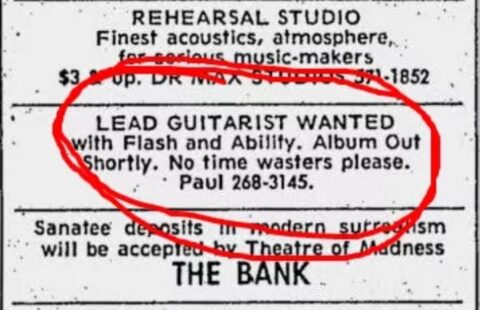 January 3 Birthdays
Stephen Stills, singer songwriter and master guitar player. Stills formed Buffalo Springfield with fellow Rock and Roll hall of fame Neil Young. They had the hit For What It's Worth. Following this band Stills was apart of the supergroup Crosby, Stills and Nash. Their second gig was for 500,000 people at the Woodstock Music and Arts Festival.
John Paul Jones, bass player of Led Zeppelin. Jones already an accomplished studio musician and arranger before joining fellow studio man Jimmy Page in Zeppelin. Jones plays an important part in the keyboard and string arrangements on Led Zeppelin songs.