Noiseworks – Pick 5
August 14, 2019
Noiseworks gained popularity through the late 80s and early 90s. They demonstrated the hard driving Aussie pub rock sound style of the era. Noiseworks was fronted by killer vocalist Jon Stevens, guitars from Stuart Fraser, bassist Steve Balbi, keyboards by Justin Stanley and on drums Kevin Nicol. Learn about this killer Australian act as we pick our favourite tracks from their three albums.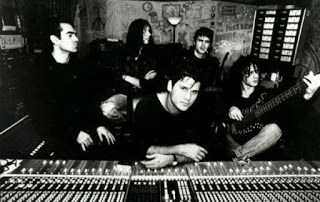 Take Me Back – Noiseworks (1987)
The big hit single from their self titled debut. Classic power ballad track. Moody keyboard intro. Big gated 80s drum sound. Cruching guitars sitting on the quaver rhythm. Enormous vocal hooks in chorus. A must learn guitar solo using major pentatonic. Sneaky good bass fills. Using the standard Verse-Chorus popular song structure.
Bass players can learn this song by clicking the lesson below. Taught by Rhys Lett, owner of the Eastern Suburbs School of Music.
Touch – Touch (1988)
The lead single from Noiseworks 2nd album. Following the template of Take Me Back. String pad intro added to by the piano line hook. Again the standard pop song structure. Great hi hat work from drummer Nicol. Insane bass fills to enter verse 1. Hear the same fill going into the chorus. Another anthemic chorus vocal. We think this eclipses the quality of Take Me Back.
Hot Chilli Woman – Love Versus Money (1991)
The huge hit single from the final Noiseworks album. Lead by a blues based guitar line and rhythm playing. Excellent backing vocal production. Keyboards pushed to the background compared to other Noiseworks singles. Super bass line using off beat passing notes.
No Lies – Noiseworks (1987)
The song that launched their career. All the elements of an 80s pop tunes are present. Wailing guitars matched with synth sounds. Can clearly hear the INXS influence on this song.
R.I.P. (Millie) – Love Versus Money (1991)
A song for Stevens' late mother. The last single original Noiseworks track released as a single.