Dead and Company, Playing in the Sand Night 2, January 19, 2019 Review
January 22, 2019
Time for the second show of Playing in the Sand 2019 version. After the buzz of my first "on the day of" webcast concert experience, technology let me down for 24 hours delaying getting to view show two. As mentioned in the night 1 review, I have gone from casual fan to full blown obsessive during my recovery from cancer surgery and treatment during 2018. Night 1 was the first show I had the excitement of "being" there. I'll be watching show 2 and 3 back to back. Expecting this show to have the feel of it being set 3 rather than set 1 of a normal tour show.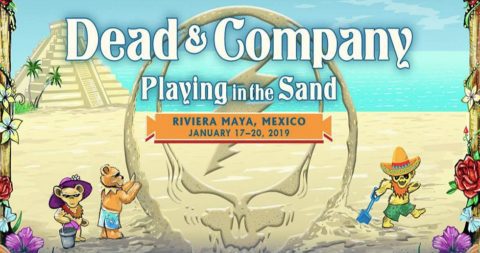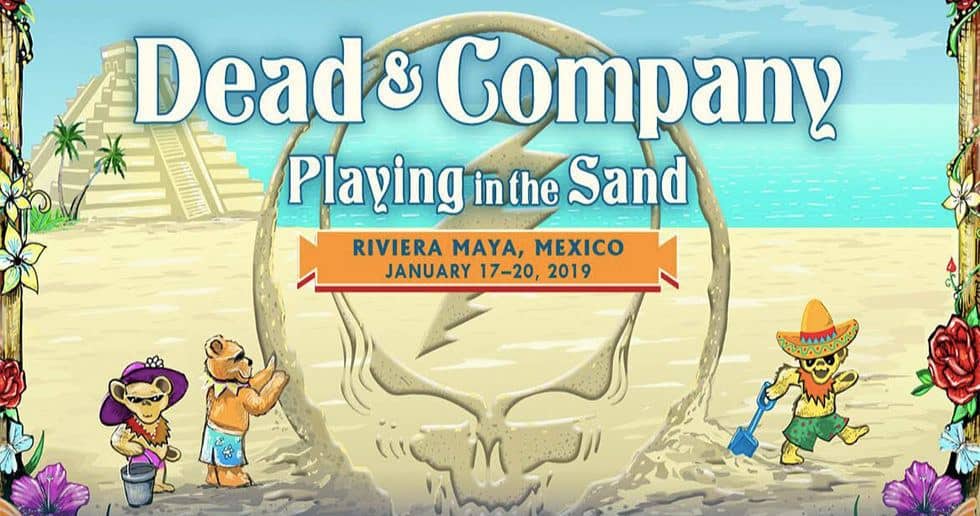 Dead and Company – Playing in the Sand – Night 2, Set 1
Opening with Deal, Mayer vocal sounding already warmed up. Good energy early. Think he is in for a big night. Meditating on the first solo. Passes off to Jeff on organ. Really admire Jeff having all the real instruments there rather than simulations loaded on a Nord or Korg like many bands do today. Nice burst of Hammond with Leslie speaker cranking. Crowd vibe looks good, hello to everyone there! Engaging dyad run at end of guitar solo. Wish they would bring up Bob's guitar in the broadcast feed. Mainly pentatonic playing from Mayer in this one. Nice start to show.
Cool build into Hell in a Bucket. Mayer kicks a bit more dirt into his tone and digs in. Once again love the authentic tones from Chimenti this time on acoustic piano. First 80s tune of the weekend. Pet hate of a clip on tuner on a headstock on Bob's guitar. Some classic rock playing from Mayer but stretching it as he sure can. He is all about playing to Jeff this weekend. Mickey finds great spots to control the dynamic and play between the vocal.
Up next Cold Rain and Snow. I have always enjoyed Dead and Co version. Good chorus vocals lifts the tune. Can tell the band enjoys singing that part. Mayer on the silver PRS, gusty tone. Bob staying on the Strat. That blurry camera spot on Oteil side hasn't been fixed. Nice harmony lines between Chimenti and Mayer. Mayer really reaching to take it further tonight. He wants this one. Finding rhythms and pushing them around the scales. Does Oteil ever play a wrong note? Nice chord inversions by Mayer between verses. Stones sounding outro. Felt this is one of many things that set Dead sound apart in having stronger Stones influence than Beatles. Consequently they always had a more menacing sound.
Following on with Ramble on Rose. Bob struggles vocally with this one tonight. Have heard them feel this one better than this version. See if someone steps up to elevate it. Mickey trying to in the bridge. Nice Jerry style runs into to the solo. Chimenti second half of solo is that elevation I was looking for and band responds. Nice fills by Oteil in the last verse.
Onto Alabama Getaway. Better tempo in this performance than have seen them previous do. Mayer moving his lines through the chords with a few Chuck Berry style runs. In addition, interesting how Mayer uses pinky to do the Chuck style rhythm playing rather than holding a power chord as most do. Nice brisk version.
Acoustics come out for Peggy-O. I want Bob's guitar! I really appreciate that the band is uncompromising in their search for the perfect tones to deliver the audience. Even over a webcast that acoustic tone is stunning. Mark Knopfler sounding playing from Mayer. Band backing is more interesting than a bland AOR take on a song of this tempo.
Excellent piano intro by Jeff into China Doll. Oteil first lead vocal of the weekend. Those bass chords lifting the spotlight onto more than just his sweet vocals. Mayer kicks a touch of delay in for the solo. Using chromatic touches to outline the chord movements in the first time round the song form. Oteil's shorts winning the Playing in the Sand fashion stakes. Wonderful tender rendition.
Energy raised as we head towards the end of set 1 with One More Saturday Night. Tempo could be pushed a bit more. It gets a bit plodding at this speed. Needs to be looser, too controlled. While some tunes I really enjoy the changed tempo like Shakedown Street compared to the coked up tempo of the studio take. Bob goes for it vocally at song conclusion choruses. Off key but real fun. Very tidy set 1 with Hell in a Bucket being the standout.
Dead and Company – Playing in the Sand – Night 2, Set 2
Estimated Prophet to open the 2nd set. Settling comfortably into the time signature shifts. Nice Rhodes piano sounds lushly filling space. Oteil effortlessly putting the riff down deep in the pocket. Plenty of silence for those grooves to breathe. His voice doing the Donna harmony in the chorus with strength. Mayer has the Mu flowing for the solo. Nice playing rhythmically crossing over the chords changes. Great melodic flourishes by Oteil under the Mayer guitar solo. Drummers behind him also responding to everyone getting busy. Drop back to the verse where I thought the jam still had more to give. As we go into the fade of this Mayer adds the octave pedal to the mix and hits those outside jazz runs I thought would be coming tonight. Band follow him into free jazz territory as the explore the transition towards He's Gone. Once again could have been stretched as they were just heading somewhere.
Crowd enthusiasm on peak, singing the "steal your face" line with gusto. What a run by Oteil before the second verse. Him and Mayer fighting for MVP tonight. Great overbend licks by Mayer in solo, great sequence. Excellent supportive rhythm playing from Bob in the outro. First Chimenti and Mayer dual of the night after heavy interplay on night 1.
Up next my favourite Dead tune St. Stephen. The Hendrix style first inversion chord sequence caught my ear and was hooked. Importantly, this has always been in the Mayer rhythm style. The Dead and Company take is far more sedate that the Live/Dead energy. I would prefer the guitars had a raw dirty tone. In short, give those melody lines the sting they need. Bill still creates a mighty groove. The awesome guitar/bass harmonies coming out of the bridge reinforces why this is my favourite piece. However, it's just all a bit too "nice". Bill and Mickey taking it there in the later stages of the solo section. Jams just haven't quite got there tonight. As a result the transition out is clunky.
Excellent we are getting the full treatment here with William Tell. Can just tell here is Mayer's moment of the weekend probably coming. This is gonna go out there. Take them there John. Bob is on board. Again going back to his sparring partner of the weekend. Chimenti takes Mayer's playing to new area. Subsequently, the drummers Kreutzmann and Hart respond in kind. Best transition of the night into The Eleven. The band continues to play the rarely used time signature without a second thought. Feels like a short version.
Drums enters fiercely as Mickey fires The Beam up. The instrument fascinates me and determined to research more about it. Moving into Space there is a detective show tv soundtrack feel. Mayer uses his delay pedal to fill the sound scape with oscillations. Getting out there tonight as hoped in my night 1 review. That was excellent.
Beautiful transition to Uncle John's Band. The daylight emerging from the darkness of the Drums/Space Jam. If a student sat and learned the all the licks from Mayer's solos tonight he would have a very welcome rounded guitar education. Fantastic band explorations in the outro jam.
Big bold melody signalling in Morning Dew. Super tone from Mayer already has me chasing Klon clone pedals on EBay. Moreover, this band will probably send me broke from purchasing music gear (and webcast purchases!). Bob voice suited to this tune in particular. Expecting a victory lap type solos from Mayer here. As a result of his greater energy and diverse playing tonight he delivers some stellar melodies in this solo.In other words, he really has had a great night. Band have re-energised after the Space jam finishing mightily compared to night 1 show to conclude set 2.
Dead and Company – Playing in the Sand – Night 2, Encore
Encore of Turn on Your Lovelight. Not sure this is a great choice for Bob's vocals. In other words, maybe not one for Dead and Company to perform. Then again who could live up to Pigpen's powerhouse renditions. Mayer plays off key in solo and shares an embarrassed giggle with rest of band. Love the rhythm playing Bob does under the lead guitar melody section. Sloppy ending to the short version.
Tonight saw some higher peeks than the first show of the weekend. It lacked the consistency of the first show. Mayer as the show MVP for giving everything he had and taking us all along for the ride. We a set up for a really thrilling conclusion to the weekend. Enjoying the concentration on Dead based tunes instead of covers. Subsequently getting what I feel are authentic Dead style shows.
Hope you all enjoyed night 2. Firm bet on tomorrow night's opener to be Playing in the Band. Feel free to follow our music school on Facebook by following this link or look me up to chat all things The Dead and music.